Scam Review
Legit Online Jobs
Overall Rating:
Type of Business:
Link Posting Scam
Skill Level Needed:
N/A
Income Potential:
N/A
Website:
http://legitonlinejobs.com
Recommended:
No/Scam
Legit Online Jobs Review
Legit Online Jobs by Ross Williams and found at LegitOnlineJobs.com, is yet another link posting job scheme.
I will list them all one by one in this review.
Starting with the fact that you will find no jobs here, legit, online, or otherwise.
There are obviously fake stock photos of happy customers on the front page.
There are unclickable logos of two anti-virus companies positioned there to try to make you think this is a safe and legit company.
All the red flags are on parade with LegitOnlineJobs.com.
There is a little blurb saying they are the #1 work at home opportunity.
But LegitOnlineJobs.com never really says who or which organization voted them number one.
Unless of course, they voted themselves #1.
Legit Online Jobs says that their company is all about helping you make money really easy with link posting ads.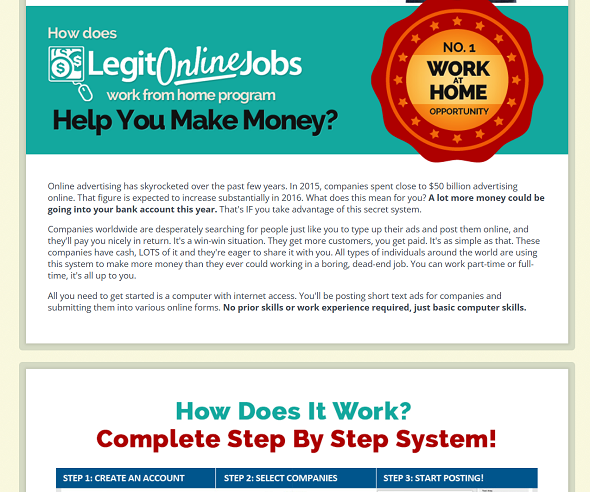 But there is so much more to it that they leave out.
Legitimate link posting involves lots of time, effort, and spending more money than the initial fee you paid when you signed up.
What they really don't tell you is how they really make their money.
They sic a 'senior rep' on you who will do their very best to talk you into spending at least $2,000 to $3,000 for more extra special training.
Many people have complained about this.
The amount of endless calls from Legit Online Jobs' aggressive salespeople is designed to wear you down.
Hoping you eventually give up and spend lots more of your money on their so-called business coaching programs.
Those that really won't help you to succeed at all… none of it will.
Another way LegitOnlineJobs.com makes money off of you is by reselling your personal information to 3rd party clients that you give them when you sign up.
Even though they claim they won't do that they, of course, do that because they will not leave any money on the table.
It's how all these scammers like Legit Online Jobs make additional money.
If you did sign up with LegitOnlineJobs, cancel your card and hope you can get your money back.
Because when you find all this to be true, it's close to impossible to get a refund.
As they will let you know, it is in their disclaimer.
Please don't bother with this not legitimate LegitOnlineJobs.com.
It's an outright scam.
Thanks for reading our Legit Online Jobs review.
by David Harris | Updated on January 4, 2023, at 8:47 AM CST:
Our Top 5 Recommended Internet Businesses
Tags
Legit Online Jobs
legitonlinejobs.com
Ross Williams
VIP membership
scam
link posting
Back To Scam Reviews
2 Comments/Reviews