Business Review
My Business Venture
Overall Rating:

Overall Rating

Type of Business:
Done For You Business
Skill Level Needed:
None - Done For You
Income Potential:
35-200% Profit Margins
Website:
https://MyBusinessVentures.com
Recommended:
Yes
My Business Venture Review
The My Business Venture business was founded over 23 years ago and is found at MyBusinessVentures.com.
It is an online web superstore turn-key business that offers over 10,000 products.
The MyBusinessVenture business is only available in the U.S. and Canada.
These would be sold on your own website and they will be completely set up and built outright for you.
My Business Venture is an accredited member of the Better Business Bureau (BBB) with an outstanding A+ rating.
They are also registered with D&B or Dun and Brtreet.
My Business Venture was established in 1992 and now has offices in New York, Atlanta, and Orange County, California.
They assist people looking to start an online income business in the United States and Canada.
Of the items offered on the websites, they range from electronics, automotive, bath, and body, cologne.
As well as "As Seen On TV" items, sporting items, and 1000s of additional products.
The items are marked up for profit on your internet store but you can adjust your pricing as you see fit.
You have total flexibility as you really are in charge of your own online business with 100% of their help and support.
There are other web stores that serve as privately owned online merchant sites that sell items to the public.
The difference is you have to do all of that work on your own, which will be very difficult, timely, and costly.
My Business Venture sells a combination of name-brand products provided – and the cyberstore to put them in.
They also maintain the inventory levels for you automatically through their XML feed technology.
My Business Venture does this by selling a virtual turnkey internet business package.
It's loaded with over 10,000 items, a merchant account, a domain name, an XML Google sitemap, social media management, drop shipping, and, a lot more.
It is truly a 100% complete business.
My Business Venture is not simply an affiliate program, but a complete, real turn-key business you have full control over.
MBV really does provide so many key business components to help you improve your chance at success.
And they have recently invested a ton of money on a new website platform that is equal to the ones used by the biggest companies.
There are several companies using the same technology and doing well over one million dollars in sales.
MyBusinessVenture offers its clients the same kind of technology for just a fraction of the price.
This is the most affordable business of its kind that we have ever come across.
My Business Venture is definitely not some kind of MLM or a simple affiliate program.
They provide real customer support and service with people always answering an 800 number.
They provide hosting, your custom website, and a domain name with many choices of real professional business website designs for it.
MyBusinessVenture lo your site with the latest shopping cart and updated SEO (Search Engine Optimization) compliance-friendly technology.
They also give you the ability to accept credit cards securely online.
All sites include an XML Google Sitemap which will make it easy for Google to find and index your website.
This kind of business is really suited for those who are interested in operating an online franchise type of business.
But want a company that services all the facets that make a business run simplifying every process.
This is really perfect for those who have tried and failed at MLM or affiliate income programs.
But would like to graduate to something much more substantial.
As well as having real live support by phone whenever help is needed.
Your ROI (return on investment) depends on how well you drive traffic to your web store.
They do provide extensive marketing programs to assist you in driving a massive amount of traffic to your business.
They also include a built-in Google Analytics system in your website administration portal to show you your progress.
It's impressive that My Business Venture offers free drop-shipping with your actual company name on the packages.
MyBusinessVenture will make your business look very professional as everything looks to be coming from you.
Instead of being sourced from the "My Business Venture" name or any other name rather than yours.
Your customers will not be stolen away by some company selling products with their name on everything instead of yours.
As repeat customers would simply order from that company then next time bypassing you and your potential future profits.
This happens quite often with their competitor's offerings and is something to take into consideration when looking around at other options.
Toll-free marketing, technical, and customer service support are also provided in the My Business Venture web store endeavor.
They update your website twice a day automatically so your products are never out of stock or show old, outdated, or unavailable inventory.
That is sure to frustrate your potential customers if this is not taken care of.
Starting a brick-and-mortar (offline business) store that does similar business can start at 10s of $1000s.
And with My Business Venture, there is no inventory to store on your dime, this is a huge advantage working with an online entity.
MBV has been in business since 1992 and has had years to perfect its online income system.
MyBusinessVenture itself started with a $100 investment back then and turned the company into one doing over one million dollars in sales annually.
So they obviously have become a nice success story.
My Business Venture is more like a mom-and-pop web store business.
This is perfect for people who want to work from home and have a substantial company with real support behind them.
And one other positive factor in the way My Business Venture operates is that there is good transparency for prospective store owners to look over before buying.
This goes a long way in a sea of affiliate marketing scams that just take you to a buy page without ever knowing what you would be doing before paying.
MBV prefers to speak with every potential client, go over the program, answer all questions, and see if they would be a good fit for their program.
Now, if someone is not a good fit, they will actually decline to work with them.
This is instead of taking their money and then blaming them for the failure like so many of their competitors do.
Remember, you only need a very small part of the pie to be successful.
The few complaints registered with the Better Business Bureau were resolved in the members' favor and they have an excellent BBB A+ rating.
In fact, they do have extremely good support and help you resolve your issues as quickly as they possibly can.
I called their 800 number and a live person picked up on the second ring.
This is unheard of for most companies, especially those that are internet-based.
I was impressed with this, to say the least.
For most people, it is easier to partner with MyBusinessVenture instead of reinventing the wheel on their own.
For the newcomer to internet income marketing, this is definitely a company to consider.
MBV University is there to help small business owners receive continual education on how to successfully run an online home-based business and to help you profit from the experience.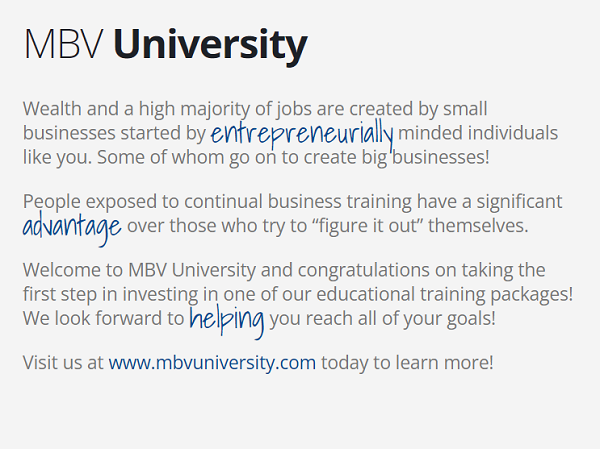 An exceptional trainer guides you and leads by example to show you exactly how to succeed.
You will receive one on one personalized training built around your schedule so you don't miss anything.
If you are tired of the get-rich-quick schemes and lack of support from the other programs…
My Business Venture provides a very nice change of pace.
Thomas Stridiron, the CEO himself took a considerable amount of his time explaining how their package works and I was really impressed with all this program had to offer!
We highly recommend MyBusinessVenture as a complete package to consider when starting a business.
You will also get the free ebook and get more information on how you can partner with My Business Venture.
I hope you found this review of MBV useful.
My Business Venture is definitely not a scam, we highly recommend it.
You can get their free E-Book Detailing the "Top 50 Ways to Market Your Online Business".
You can check out their website here:
MyBusinessVentures.com
Thanks for reading our My Business Venture review.
by David Harris | Updated on July 12, 2023, at 10:10 AM:
Our Top 5 Recommended Internet Businesses
Tags
my business venture
My Business Venture review
web store
mybusinessventure.com
mbv
thomas stridiron
webstore
superstore
reselling
internet store
product reselling
my business ventures
A plus BBB rating
Back To Business Reviews
9 Comments/Reviews