Business Review
Youngevity
Overall Rating:

Overall Rating

Type of Business:
MLM
Skill Level Needed:
N/A
Income Potential:
N/A
Website:
https://youngevity.com
Recommended:
No
Youngevity MLM Review
Youngevity.com is from Steve Wallach and is an MLM or multi-level marketing business income opportunity.
It uses nutritional products as its way of avoiding being labeled as a pyramid scheme.
Having researched and reported on many MLMs, both scam and legit I look at certain factors to determine whether it is a real opportunity or not.
One of the factors I look at is; how high of a price markup is being placed on the company's products.
Our Top 5 Recommended Internet Businesses
Usually, when they are very expensive it is a sign of a company that is more concerned with recruitment than actual product sales.
The prices on Youngevity products are ridiculous.
Companies like this look at their products as simply a formality to make what they are doing legal.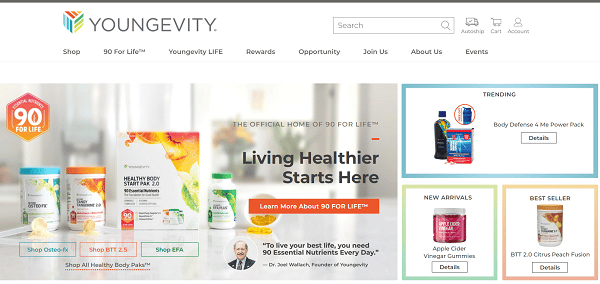 The company requires its salespeople (recruiters) to buy a minimum for the sponsor's margin and overhead.
Contrary to Youngevity's claims that the product is effective, none of their products are considered to work very well.
This is according to reputable testing done by trusted professionals.
No real valid testing has been done with humans.
But they claim it kills cancer in test tubes.
Truth is, bleach kills cancer in test tubes.
But you don't want to drink that either.
A supposed Nobel nominee, Dr. Joel Wallach ties his reputation to claims that Youngevity makes that its product is of high quality.
I could not find him on any Nobel nomination list going back to 1992 when he allegedly was nominated.
In any case, he is a veterinarian so anything he has to say about the product is questionable.
There seems to be a running theme of quackery with many health supplement MLM businesses that focus more on marketing than providing a decent product.
Youngevity is no different.
Their profits come from new distributor recruits who have to buy the product when they sign up.
So you are going to purchase their overpriced distributor packages in order to recruit others to do the same.
And so on down the line.
You will also have to spend a lot of money in order to find more leads through ads, meetings, etc.
And ultimately making income from this company is going to be very challenging, to say the least.
Please keep in mind that we are reviewing Youngevity for the specific side of whether you can make a living from it or not.
We believe it is not, and will only cost you more than you will ever make.
We don't recommend you get involved with Youngevity either as a business opportunity or as a consumer of its product.
Thanks for reading our Youngevity review.
by David Harris | Updated on August 28, 2022, at 9:32 AM CST:
Our Top 5 Recommended Internet Businesses
Tags
Youngevity
youngevity.com
Steve Wallach
mlm
multi level marketing
Dr. Joel Wallach
health supplements
scam
Back To Business Reviews
3 Comments/Reviews