Business Review
Rich Dad World
Overall Rating:

Overall Rating

Type of Business:
Business Coaching Program
Skill Level Needed:
Intermediate to Advanced
Income Potential:
N/A
Website:
https://richdadworld.com
Recommended:
No
Rich Dad World Review
Rich Dad World by Robert Kiyosaki and found at RichDadWorld.com, is a business coaching & mentoring program.
RichDadWorld.com has left many of its members feeling as though this provides very questionable results.
As it is, the price is so overblown that there really should be no question as to whether it should work or not.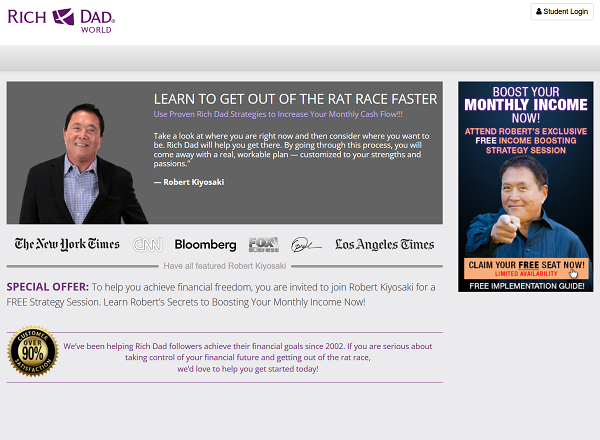 I won't be getting into the detail regarding his books or his business philosophy.
Those are very interesting and worth learning about because the focus of this RichDadWorld review is on the Internet coaching program.
I will say that I have read and enjoyed the series of Kiyosaki books.
And can tell you that there are far better results when you read the books at pennies on the dollar of the cost of his Rich Dad World seminars.
Our Top 5 Recommended Internet Businesses
Although I definitely recommend that you read his books, the focus of the coaching program is more on real estate than business or marketing.
After the extremely long and unnecessarily drawn-out pre-recorded webinar…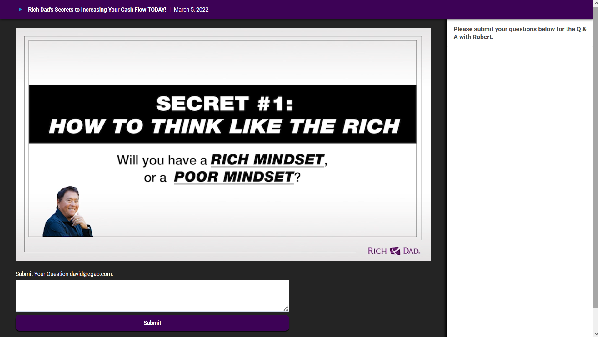 Having undergone several coaching programs, some more rigorous than others…
I found Rich Dad World's coaching program to be disappointingly short of the mark, as opposed to the results I've seen from his books.
So, how much is the Rich Dad World "Real Estate Cashflow Blueprint" program?
Single Payment Option: $395.00
5 Payment Option: 5 X $99.00 or $495.00
You are also given the option to add "Unlimited One-on-One Live Coaching".
This Coaching costs an additional 5 installments of $199.00 or $995.00.
If you get both the "Real Estate Cashflow Blueprint" as well as the "Live Coaching", you're looking at spending a total of $1,390 or $1,490 (depending on your initial payment option chosen).
The coaching option comes with 6 months of unlimited LIVE ACCESS to Robert's personally trained real estate investing Coaches.
However, Robert will not partake in any of the coaching processes.
$1,390 or $1,490 is a lot of money to spend on this type of program, especially with Robert out of the picture.
After those 6 months are up, they will probably be charging an extra $400 to $500 an hour for more consulting after that program period.
To be fair, RichDadWorld does have a free resource line you can call, but even that has its limitations.
And add to that your coach's feeble responses to your email queries…
I believe the Rich Dad World "Real Estate Cashflow Blueprint" and Coaching program should be priced at less than a 5th of its current price.
I've approached many who have gone through the program and the common response is that they were not in the least impressed with it.
The usual common feeling, like my own, is that although the lessons are good, the answers are too broad-stroked or just plain vague.
And they leave you with a general sense of disappointment and frustration.
However, there is a reason for this.
Rich Dad World is not really Robert Kiyosaki's own program.
He contracts out from other coaching businesses that are familiar with his actual program.
The RichDadWorld website, though is a large virtual store filled with informational materials for sale.
The coaching seminars' training videos can be found there at a third of the price of the personal coaching program, too.
There are even games for children and adults based on Rich Dad Poor Dad topics.
He even sells his name brand for Rich Dad World – Rich Dad Poor Dad franchising.
I would be very careful before investing in his franchise program which starts at $35,000+, though.
Unless you really know what you are doing and already run a highly successful MLM-type of business…
It won't be a good investment on your part.
Even if Robert Kiyosaki were to teach me face-to-face…
I would almost still hesitate to spend as much money as the "Rich Dad Poor Dad" – Rich Dad World charges for their Real Estate Cashflow Blueprint and Coaching program.
However, most of the Rich Dad World coaches are not necessarily as experienced in the actual running of their own real business as they would have you believe.
They also do not have a good refund policy system.
As in, no refunds at all.
There are tons of complaints online about people getting charged the $99 subscription and they start getting charges of $300 without warning.
Disconcerting, to say the least.
Their BBB – Better Business Bureau listing has its fair share of complaints yet they still somehow managed an impressive A+ Rating with a dismal 2.78 out of 5.00 Stars.
2.78 out of 5.00 Stars or 55.60% would be an F Rating in anyone else's book.
Come on BBB, you can do way better than that.
Unfortunately, it appears that anyone can outright buy an A+ rating at the BBB nowadays.
https://www.bbb.org/us/az/scottsdale/profile/educational-consultant/the-rich-dad-operating-company-1126-17003737/customer-reviews
I have to say that I do not recommend the Rich Dad World "Real Estate Cashflow Blueprint" or the Coaching Program to anyone wanting real results in improving their business acumen.
Just read Robert Kiyosaki's books instead.
Your bank account will love you for it.
Thanks for reading our "Real Estate Cashflow Blueprint" and Rich Dad World review.
by David Harris | Updated on January 11, 2023, at 9:32 AM CST:
Our Top 5 Recommended Internet Businesses
Tags
Rich Dad World
RichDadWorld review
Rich Dad Poor Dad
richdadworld.com
Rich Dad Coaching
richdadcoaching.com
Robert Kiyosaki
Robert and Kim Kiyosaki
Rich Global
Back To Business Reviews
6 Comments/Reviews