Business Review
Product Report Card
Overall Rating:

Overall Rating

Type of Business:
Product Testing
Skill Level Needed:
none
Income Potential:
Gift Cards and cash
Website:
https://productreportcard.com
Recommended:
No
Product Report Card Review
Product Report Card by SoftLayer Technologies Inc. is located in Denver, CO., and is found online at the ProductReportCard.com website.
They are a product testing and evaluation service that offers consumer participation through product testing and trial offers.
In this review, we aim to find out if they are legitimate or not.
This website operates as a medium for consumers to be able to interact with the core company.
ProductReportCard reviews products and pays consumers for their honest opinions, reviews, and ratings of the products they use regularly.
Their methods of payment include PayPal, Amazon Gift Cards, or a check made into your name.
The Product Report Card offer is free to join and is available worldwide in a free mobile app.
Although minors are allowed to participate, they are not allowed to receive their prepaid Visa cards.
Our Top 5 Recommended Internet Businesses
They limit memberships to only one member per household.
You get $3.00 just for filling out the personal information questionnaire after signing up for an account.
After much research, I've found that there are hardly any complaints lodged online about the Product Report Card offer.
They only have one keyword for the whole entire site so it's not super easy to find unless that's exactly what you're searching for.
ProductReportCard.com strives to report unbiased reviews on products everyone buys on a regular basis.
They offer ways to make money by taking part in their studies.
Upon signing up, Product Report Card offers you tasks that correspond to the personal information you entered about yourself.
That is better than many sites that have you take random surveys and panels only to find out you don't qualify halfway through.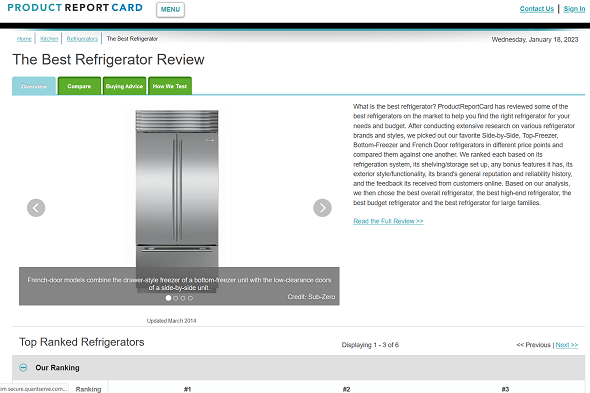 ProductReportCard.com monitors all incoming and outgoing payments internally.
This means they will deposit your earnings into an account on their site.
Also, they return your cashback in the account when your trial ends on products you buy to try out through the Product Report Card site.
Their credo includes realizing that user reviews are important to them.
This is because it's consumers' views that help make a product more successful than expert advertising in many cases.
ProductReportCard gives consumers a chance to evaluate and air their views on the qualities both good and bad of products they try out.
It's all done in a scientific way through questions that measure relevant criteria.
The only downside I experienced is waiting for a product that I would qualify for to earn some actual money.
Product Report Card trials for me were too infrequent, to say the least, but they are dependable in payouts and returns.
While it's more than I can say for the majority of survey studies sites.
I don't recommend ProductReportCard.com as a way to make anything substantial though.
These types of offers don't seem to be worth the trouble.
Update 2023: Recently there have been a lot of complaints of people not getting paid and the company ignoring inquiries into member payments, not responding to emails, etc.
Because of this, I do not recommend ProductReportCard.com as a viable income source.
A better alternative to this is Survey Junkie, you can check them out here.
Thanks for reading our Product Report Card review.
by David Harris | Updated on January 17, 2023, at 10:17 AM CST:
Our Top 5 Recommended Internet Businesses
Tags
Product Report Card
productreportcard.com
SoftLayer Technologies Inc
product trials
product testing
product evaluation
cash rewards
Back To Business Reviews
15 Comments/Reviews